Cash flow definition:
According to the dictionary, the definition of cash flow is "the total amount of money being transferred into and out of the business, especially as affecting liquidity." Your cash flow statement shows how cash is moving in and out of your business. A typical cash flow statement will show how cash moves through your business during a certain period of time, like last month, last quarter, or last year.
The cash flow formula is: Cash Flow = Cash Received - Cash Paid Out
By downloading our Cash Flow Template, you'll receive a cash flow statement example, which you can edit directly to make your own. To learn more about what a cash flow statement is and how to read it, check out our article on the LivePlan blog: Understanding Your Cash Flow Statement.
Cash flow analysis: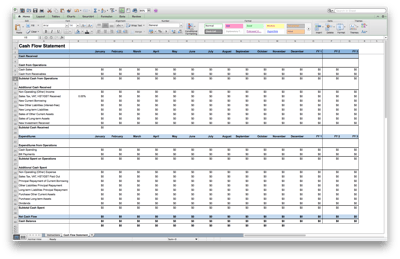 The process of creating and reviewing your cash flow statement is often referred to as "cash flow analysis." Monitoring your cash flow is an incredibly important part of managing your business, and failing to do so could mean the failure of your business.
Even if your Profit and Loss shows that your company is profitable, you could still have poor cash flow and be at risk. Many, many profitable businesses have had to shut down because they mismanaged their cash flow.
To prevent this horrible situation from ever happening, it's critical to understand your cash flow statement.
Although it may seem complex, just remember that it's simply the cash that's moving into and out of your business. And, it's a critical tool to understand how your business is doing.
Your cash flow statement is usually reported at the same time as your income statement (profit and loss) and balance sheet. Together, those documents make up the key elements of your company's financial plan.
Want us to create your cash flow statement for you?
If you need more help creating your cash flow statement, take a look at LivePlan. LivePlan is a simple business planning and financial forecasting tool that makes business numbers simple.
With LivePlan, you can easily create complete, and guaranteed accurate financials without any prior business knowledge. LivePlan walks you step-by-step through the process—no formulas for you to mess with or accounting knowledge required. Plus, you'll get our world-class phone and email support to help you along the way—something you won't have access to when you use this free template.
See how LivePlan makes financial statements easy »
Cash flow statement example PDF
When you use LivePlan, you can also export your financial documents and choose from 10 professionally designed styles that instantly transform your plain document into an impressive report. View a cash flow statement example PDF, created with LivePlan.